I recently had the pleasure of being interviewed by Dan Goodman from a local up and coming Miami magazine called VoyageMIA on my work with "medicine music".
It's happy to share it with you here and you can also find it live through this link:
********************************************************************************************
Art & Life with Giselle Real-d'Arbelles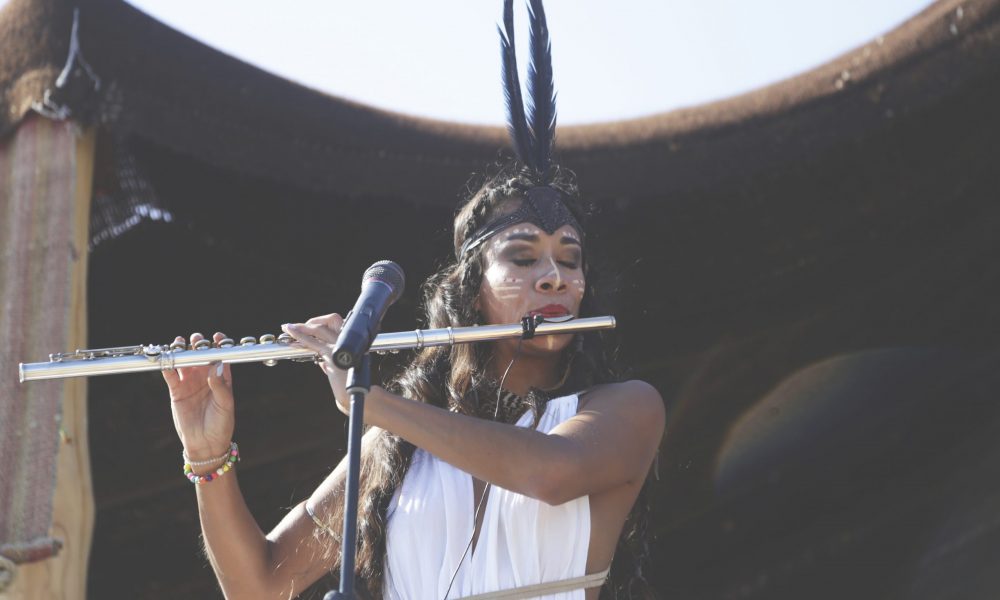 Today we'd like to introduce you to Giselle Real-d'Arbelles.
Giselle, please kick things off for us by telling us about yourself and your journey so far.
Raised in Miami by parents of Nicaraguan and European descent (French and English), I have been involved in music as early as the age of 4. Both my parents had a high regard for music, were amateur musicians, and encouraged me to learn music.
I began as a singer and later became a flutist around the age of 10 going on to study classical music formally in conservatory.
Upon graduating from my Master's degree in Music Performance in New York, I returned to my home of Miami felt the need to break-free from the constraints of the conservative classical music scene, and I began creating music and shows that fused my flute and classical elements with electronic music.
Soon after, I found "plant medicine", which are plants having strong healing properties on not only a deep physical level, but also emotional, mental and spiritual level, and I began participating in traditional Native American ceremonies where I experienced life changing healing prompting growth, creativity, and empowerment, as well as a deepening of my connection to the Earth and my ancestors. I would never be the same and I was beyond grateful.
This newfound way of life and understanding of spirituality and earth-consciousness inspired composing, performing & recording music infusing ritual & indigenous culture intothe electronic scene.
Can you give our readers some background on your art?
Through my travels & love of ceremony I've created a soundscape of unique textures fusing tribal electro-medicine-music whilst curating an alchemic experience honoring the elements of our Earth & inspiring healing through powerful use of indigenous chants & ancient mantras.
I have found I have a mission to use music, performance, and production as a tool for elevating our collective human consciousness. I'm doing this by creating conscious "medicine-music", music for healing, for the electronic dance scene. I want to bring in high vibes, share earth-consciousness, and inspire well-being.
I've found through my deep experience in the night life music scene that people are often trying to escape their pain and problems, so they try to do that in these spaces under the influence of drugs and alcohol. What they seek truly is to feel connection. They want to feel love.
I want to help them feel that love & connection and help them realize it's been inside of them all along. They don't need to damage their bodies by using these harmful substances to find it.
In my live performances at various festivals I have already begun to see how people are impacted by this music and the chants. It's interesting even when they don't know what I'm saying because sometimes I'm singing in languages they don't understand and playing the flute where there are no lyrics to guide their emotions, the transmission comes through anyway, and they come to me and literally say "I don't know what you were singing, but I felt so much peace and love in my heart and I thank you". This is the reason why I decided to embark on this journey to create an album of electronic "medicine-music".
Any advice for aspiring or new artists?
Yes. Stay true to yourself.
There was a time when I played a lot of music to please others even when it wasn't true to what I actually loved and connected with. Perhaps I did it for money following the illusion that money equals success.
The truth is joy, health, and good relationships equal success. Are you living in integrity to your truth and celebrating that in your art and all you do? If so, I believe this is success.
The moment I started consciously creating and performing music that rang true to me, my mission, and truly fused and spoke of all the aspects of my being, I found myself actually being more "successful".
People were moved, touched, and inspired and this meant more invitations to perform and share my music all over the world, and collaborate with all kinds of amazing artists.
I also want to say that as artists I feel strongly that we have a moral responsibility to use the platform we have to spread important and positive messages elevating human consciousness, and bring us back to the state of love.
We need more love in this world. Our fellow humans in these states of pain, suffering, fear, and anger need more love. We can be a channel for that. We can be a channel for that in how we deliver our music be it instrumental or music with lyrics, and our art.
I want to share that I learned talent is only a small part. Effective consistency and persistence are what move things forward. Stay open, follow the flow of how things move, trust the process with all the ups and downs, and keep going. Also, always be professional no matter how much you're being paid, or even if you're doing it pro-bono. You are always representing yourself so always give your best no matter what.
Last thing I want to advise is to educate yourself as much as possible on all aspects and branches of the industry you're in. Stay up to date with new technologies supporting your work, and learn how to make them work for you.
What's the best way for someone to check out your work and provide support?
By the first week of March I will have released my debut album "Tribu", produced by an amazing producer and musician, Walker Barnard. You will be able to find it available on a music platform called Bandcamp where you can purchase it and download it.
I also currently have a 4-track EP, which is like a mini album released. The EP is called 'Tribal Waters" and you can find it also on Bandcamp by searching for "Tribal Waters" and "Giselle World".
I also have some of my music steaming on SoundCloud under the name "Giselle World", and videos of some of my international performances on my YouTube Channel and Instagram also under the same name.
Contact Info:

Image Credit:
Photography by Elena Andreou, Jorge Otero, and Gabriel Gaviria.